Prices & Payment Options

Our Poodle Sizes

Adult Weight

Height

Price
Tiny Teacup Poodles

2.5 - 3.5 lbs

8" and under

$4,500 - $5,000
Teacup Poodles

      3.5 - 4.5 lbs

8" and under

$2,000 -.$3,500
Tiny Toy Poodles

     4.5 - 6.5 lbs

9" and under        $1,500 - $2,500
Tiny Teacup poodles weigh between 2-3 lbs. and can be 6" to 8" tall and under full grown. Teacups weigh between 3-4 lbs. and are also 7 to 8" and under full grown can be more or less. Depending on the size of a teacup, Teacups can not go to their new home until they are 10-16 weeks old and sometimes longer depending on how small they are.  Like humans, weight and height depends on the eating habits and our genetic genes, we can only guess the size humans or animals should be when grown. (With that said all animals sold after leaving our care are sold As Is, Where is !).

Tiny Toys:

Tiny toy poodles weigh between 4-6 lbs. and are 8-9" full grown. Tiny toy poodles can usually go to their new home at 10-12 weeks of age.

CARING FOR PET TIPS:

In the first two weeks we will ask you to monitor your puppy's behavior closely and make sure your puppy is doing what every healthy puppy does: eat food, drink water, play and goes to the bathroom regularly.

The most important thing to remember is that a puppy is exactly like a human baby until it's about 4 months old. It needs to get a lot of rest and quite time , When bringing your new puppy home we recommend not to give it access to the whole house right away, rather, you should designate a room where it is nice and warm,  make sure the puppy has fresh drinking water  and food available all the time and has access to it whenever it feels thirsty. Since they are so small they don't need to eat much but you must make sure they don't skip a meal. If for some reason your baby doesn't want to eat, it is important that you will let us know right away so we can suggest you what to do. Again, if the puppy doesn't eat, do not wait, puppies so small can get Hypoglycemia (low blood sugar level) very easily if they don't get enough calories or if they are under too much stress. Hypoglycemia can also cause weakness, seizures, lethargy and even death.

There are many things we can do to prevent that, but we must take action fast. So be sure to have our numbers handy in case you need to call. For first aid – Use a clean towel to wrap around the puppy and make sure he is warm. Rub a bit of honey, corn syrup or some Nutri-Cal on the gums to get some glucose in his blood. Try to get the puppy to eat ASAP. If the attack is very strong take him immediately to see a vet. And no, you don't need to wake up in the middle of the night to feed your little baby.

Just make sure it ate a bit before you go to bed (you can also give a bit of "Nutri-Cal") and then feed your puppy first thing in the morning. If from some reason you want to change your puppy's diet, it is important to do it during the course of about 10 days when you start with 80 % old food 20% new food and every day add more of the new and less of the old. Changing the puppy's diet at once can cause stomach disorders and diarrhea. Not good.

Check your puppy on a daily basis to make sure everything is OK.

•

The eyes should be nice and clean, if needed, use a baby wipe to clean gently around the eye.
•

The nose should be slightly wet and the stool should be nice and solid.
•

His ears should also be looked at to make sure they are clean.
For the next month or so it is recommended not give your puppy a full bath, instead, use a warm, wet towel or baby wipes to clean. Make sure the puppy is completely dry when you're done as they are easy to get a cold. An important spot to check is the butt-hole. Make sure it is nice and clean, and if needed wash with warm water and a bit of puppy shampoo. Altogether, tea-cup puppies are exactly like any other puppies, all they need is a little bit more time and attention to make sure they get everything they need.       Keep them safe Remember- you are not allowed to take your dog out in public except for the vet until it gets all of its shots.


Puttin On The Ritz Poodles

Teacup, Tiny Toy Poodles

Tux/Parti - Chocolate/White  -  Black/White

Call for more info: 254-434-9449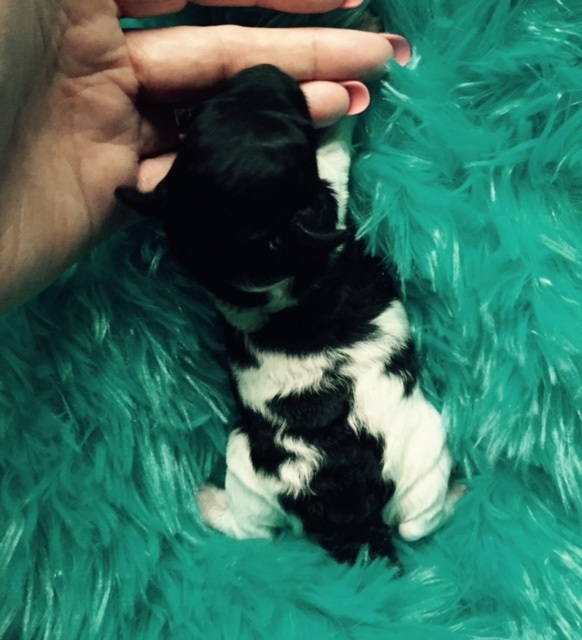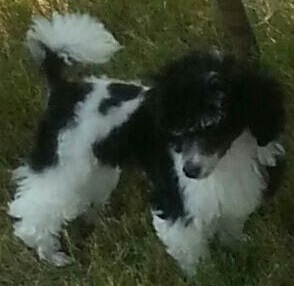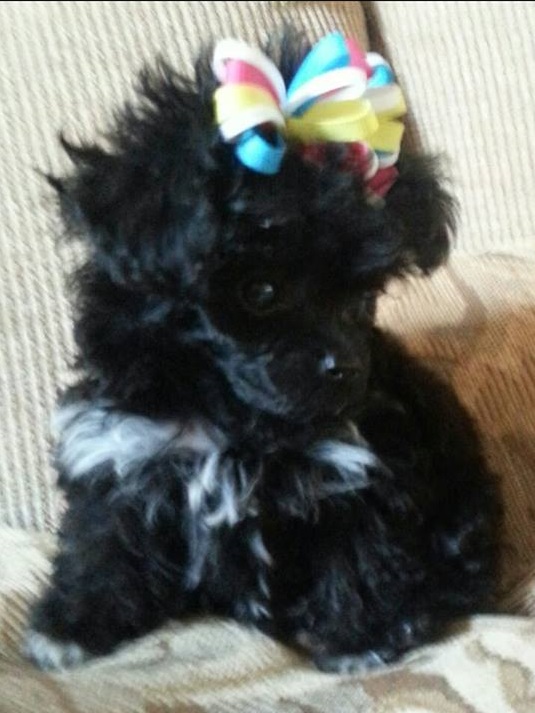 GIGI - Tiny Teacup

31/2months

Weight: 1lb 4oz

Date of Deposit:

___________________________

Purchaser:

___________________________

Address:

City / State / Zip :

Card:

Card #:

Date Expires:

CVV #:

Zip code on card:

Email:

Your Cell #_

_____

Need help or more information

Telephone: (254) 434-9449.

Deposit and List request for Puppy Form:

$500.00 dollar deposit is requires to let on list of said litter puppy,  No cash refunds will be given. All deposits are non-refundable. (Money well be applied to another puppy for a later time if a act of nature that could happens before or after dam gives birth of said requested dam litter)..  

Puttin On The Ritz Poodles or us are not responible for any act of nature that could happen to puppies before or birth. Some time things just happen it no one fault!!  We do guarantee that our teacup, tiny toy and toy puppies are healthy by a licensed veterinarian check and health certificate that is issued in the state of Texas and that they are free from known defect before they leave here.       There for our puppies are sold as is, where is after leaving our care!

the total balance of puppy is due when puppy is 10 weeks old..if not payed in fill , you lose deposti and rights to any puppy!! there for moneys and puppy   AS IS, WHERE IS and puppy and deposit stays here.

If you want the puppy shipped by plane you must make arrangements and care of puppy while in their care..

We can deliver puppies by making arraignments .. We will for a fee deliver by car and only up 250 miles you must call us first!

After filling out form just Click the submit button

We will give you a call to confirm your request

and that your deposit and name is on the list for a puppy of requested litter.

Purchase Agreement between Puttin On The Ritz Poodles and Buyer: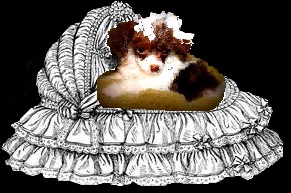 We do not sell to our puppy mills !